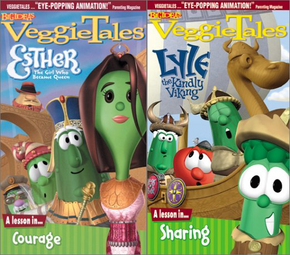 VeggieTales Vision Vol. 2 is the next and last volume with vision on VeggieTales. It was released on November 4, 2001.
Featured-Videos:
VeggieTales: Esther... The Girl Who Became Queen (2000)
VeggieTales: Lyle the Kindly Viking (2001)
Featured-Lessons:
Courage
Sharing
Featured-Silly Song:
Classy Song: Larry's High Silk Hat
Ad blocker interference detected!
Wikia is a free-to-use site that makes money from advertising. We have a modified experience for viewers using ad blockers

Wikia is not accessible if you've made further modifications. Remove the custom ad blocker rule(s) and the page will load as expected.